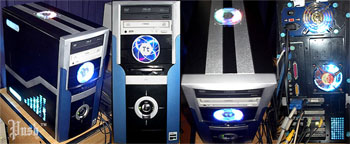 Hardware
-AMD Athlon XP 2400+ Thoroughbred B (Stepping: AIUGB 0245)
-Task 945TX-DF 450w Metallic Blue Casing / Neon Blue Light Dual-Fan (Auto Fan Speed Control) PSU
-ATX Simbadda Blue and Gray Colored Casing (Self-Modded)
-Blue Cold Cathode Light
**Added 4 additional fans:
-2 Thermaltake Smart case fan <75.7CFM, 4800RPM, 80mm, w/ speed control via rotating knob or auto heat sensor>
-2 generic quadled low RPM fan

-MSI KT3 Ultra-ARU <AMI BIOS updated to ver. 5.6>
Mobo Features:
* Thermal Diode Support
* 8 USB Slots <4 USB ver. 1.1 and 4 USB ver. 2.0>
* Built-in RAID support
* Built-in Advance Logic 6.1 Digital Sound with EAX (18-bit)
* UDMA 133 support / AGP 4x / PCI 2.1
*Diagnostic LED indicators
*IrDA Infrared Module support
**My mobo pic is posted inside my "BIOS Tweaking Part II" guide.
-768mb 266mhz DDRAM (CAS 2.5-2-5-3)
-Inno3d GeForce 6600 AGP 256mb
<currently using Forceware 77.72 drivers under Win2k/XP>
-Leadtek Winfast TV2000 XP Expert Edition Capture Card (10bit decoder)
-Creative Soundblaster Audigy Soundcard (24bit; EAX 3 & 4)
-Yamaha 8x/8x/24x CD-Writer Drive CDW8824E <firmware 1a>
-Asus 16x E616P2 DVD-ROM Drive <firmware 1.08>
-Maxtor ATA133 40gb 7,200RPM
-Bluetooth 1.2 Dongle
-ViewSonic 17" E72f+SB Flat Monitor
-D-Link 56k V.92 modem <internal>
-Epson Stylus C63
-A4tech KL(S)-23mu silver/black keyboard
-Logitech MX700 Wireless Optical Mouse
-Power Tree 600Va UPS
My CPU Temp
Default Clock Settings (28-35C Room Temp):
Lowest Recorded Idle Temp: 38C
Working with Windows Apps Temp: 41-46C
Highest Recorded Temp After Playing Games: 54C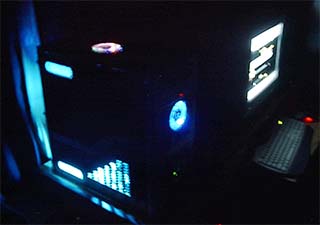 Misc. Hardware
-HP 315 Photosmart Digital Camera <firmware updated>
-Sony Analog Videcam (used as a webcam via capture card)
-Logitech Rumblepad 2 (12 button / dual-analog stick gamepad)
-Altec Lansing ACS56 4.1 Speakers 70watts (w/ SPDIF Digital Input) <35watts satellite; 35watts subwoofer>
-MPIO 256mb flash based MP3/WMA/ASF player (FM/Voice recorder and direct encoding via digital input)
-Samsung E730 mobile phone
-Creative CB2460 Bluetooth Headset (for my mobile phone)
-A4tech HS-5P Headset
-Pioneer SE-A80 Stereo Headphones
-Panasonic KX-FP80 Fax Machine


Chat/SMS
File Recovery
PC Inspector

Handy Recovery
Misc. Utilities
Agnitum Outpost Firewall

Ahead Nero

Alcohol 120%

CachemanXP

CursorXP

Windows Blinds

NOD32

Flashget

ISO Buster

BlueSoleil Bluetooth Software

Kaspersky Personal Antivirus

Ad-Aware

Firefox

Norton Systemworks

Sony-Ericsson Theme Creator

Spybot S&D

Switch Off

WinRAR

Perfectdisk

Regcleaner
Audio
CDex

dbPoweramp

Exact Audio Copy

Foobar 2000

MP3 Gain

Sound Forge

Tag & Rename
Video
DivX

imTOO 3gp converter

PicVideo 3 (M-JPEG codec)

Quicktime

Real

Snag-It

TMPGenc

Ulead Videostudio

Windows Media Encoder

Winfast Multimedia Center

Zoom Player

Virtual Dub
Photos
Peer-to-Peer
Bittorrent

eMule

Kazaa Lite

Shareaza
Games/Emulators/Roms
The Rest
MS Windows 2000 Pro (SP4)

MS Windows XP Pro (SP1 + all Critical Updates)

MS Office 2003

IE 6 (SP1)

Java
Approx: 10,100
System Performance
3dMark 2005 ver. 1.10 Pro = 2112
Settings: All tests enabled (except CPU test)
**Everything else is in default
Rivatuner:
Texture Format: High Performance
Texture Filtering: determined by application
**Everything else is in default
**Results will be updated after a few more tweaking (and/or possible overclocking). Doom 3 results (for OpenGL comparison) will be posted soon.
Last Updated: 072206
=Softwares list not updated=