=Cristy=
Nick: sweetlove
Sex: Female
Nationality: Filipina
Religion: Catholic
Birthdate: May 17, 1980
Birthplace: Quezon City
Eye Color: Black
Hair Color: Black
Age: 23
Height: 5'


Elementary and High School: Immaculate Heart of Mary
Course: <past> Accountancy
<present> Information Technology (IT)
Interest/Hobbies: Chatting with my hunnie (she told me that ok? ahehe!), Singing, Watching TV, and Listening to music.
Fave Color: Blue
Fave Food: Japanese Food
Fave Band/Group: Side A, Boyz II Men, and Freestyle
Fave Song: Freestyle - All That I Want
Cristy with her bestfriend Pam (Pam wearin a black shirt)


A wedding reception pic with one of Cristy's friend sitting beside her (Glenda)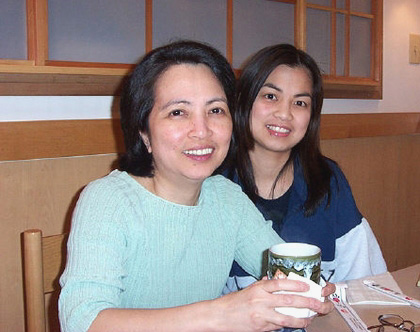 This pic was taken inside a japanese restaurant with Cristy's mom sitting right next to her.