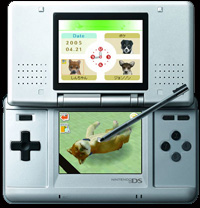 Nintendogs on the DS (non-Lite)
Control: 9.5
Ok, maybe you're thinking why would I even rate such a part of the device when all there is with most consoles is a directional pad, and a bunch of buttons ... right? Well not with the DS since it adds up 2 additional control option ... a mic and a touchscreen.
You guys should be already awfully familiar with the directional pad and buttons since its been used in like more than a decade now right? So let's just move on with the somewhat new stuff ...
The touchpad has been used in many other devices before. But seeing it being used on a portable game console is something new. Tapping and dragging your character across the bottom screen is really fun and refreshing experience ... not to mention makes controlling your character a lot easier. To give you a better idea, here's a couple of games followed by a description on how they utilize the stylus:
Zelda: tap on an opponent to attack; tap on an object to pickup/throw; draw circle around your character for a special round-house type attack; draw a line/path for your boomerang to follow
Nintendogs: give your dog a rub, bath, walk ... play with your pet by throwing toys ... comb his hair ... or teach him tricks.
WWE: perform your moves and body slams with stylus gestures.
Brain Age: write down your answers on the touchscreen.
Cooking Mama: dice, chop, mix, fry, slice, stir, etc your way into making your dishes.
LifeSigns: take a role of a doctor and do a surgical operation with the use of your stylus (as your knife for example).
As for the mic, well other than its obvious use ... its got a couple of tricks up its sleeves:
You can blow unto it to perform a specific move depending on the game. Like take out a flame by literally blowing unto it, etc.
You can do voice commands (ex: telling your dog to "sit" with Nintendogs)
Answer questions by using your voice
Do voice chat
The directional pad and buttons are very responsive and I have yet to experience any problems with them. The mic on the other hand proves to be a bit tough to use when you're in a noisy area since it makes your voice unrecognizable to the device. Trying to voice train your pet with Nintendogs for example will prove to be a real challenge unless you're in a really quiet room.
So if this device have two additional control options, why didn't I give it a perfect score? Well, I kinda like the PSP's analog (or at least how it pretends to be one) stick. It makes sports games like Fifa, Madden, or racing games easier to control. Then again, having a stick on a clamshell game console might be a design challenge for Nintendo. They might need to place a small dimple of the top cover for it to work. Still, it's not as big of a loss based on my experience.